House Demolition Melbourne
If you're looking for an experienced and reliable demolition company? Then you have come to the right place. Asbestos Audits Australia has been providing quality demolition services for over 20 years. 
Here at Asbestos Audits Australia, not only do we specialize in asbestos removal but we also specialize in the demolition of domestic, commercial and industrial properties. We provide services like soft and partial demolitions, stripouts and defits to the suburbs of Melbourne.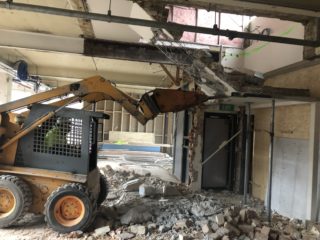 Site Demolition Specialists
Demolition, although sounds simple and straight, forward can be an extremely delicate and intricate process, especially in residential and built up areas. We strive to complete every demolition, stripout and defit jobs to the highest quality of standards, and within your required time frame.
We understand that, you don't want to be blowing your budget on a demolition job, especially when you're planning on building a new property soon after. That is why we use the best tools and equipment, and do our best to provide you with demolition services that are efficient and reliable.
Demolition Services We Offer:
Asbestos Removal
Commercial Demolition
Domestic Demolition
Extensions & Garages
Industrial Demolition
Partial Demolition
Soft Demolition
Stripouts & Defits
No two jobs are the same, so we make sure that we work closely with you to cater for your individual needs. We are more than happy to talk to you over the phone about your project and answer any questions you may have.
We recommend, once you decide to us our company, that you organise a time to one of our team members thoroughly inspect your property, in order to give you an accurate quote. Ensuring that you are only paying for the services that you really need. There is nothing worse than being caught off guard by the end price.
Contact Your Local Demolition Company Today
Are you are looking for an experienced demolition company? You've come to the right place, call Asbestos Audits Australia 0407 739 785 or send us a message using the form below.
Contact Asbestos Audits Australia
Asbestos Audits Australia
Asbestos Audit, Asbestos Removal, Contaminated Soil Removal & Demolition
Can you legally remove asbestos yourself?
DIY removal of asbestos in your home is not recommended. Because of the extremely hazardous nature of asbestos it's best to call in professionals like Asbestos Audits Australia who are licensed asbestos removalists. There is no safe level of exposure to asbestos.
What type of asbestos can you remove?
There are many factors to consider with asbestos removal. Give us a call and we can discuss your specific requirements to determine what needs to be done.
How much does it cost to remove asbestos from a house?
Lke most answers in life 'it depends'. Some of the factors to consider for each project are – the amount of asbestos to be removed, the difficulty of access, travel time and the condition of the asbestos. We usually charge by the m2 and it can be anywhere between $25-$50/m2
How long does it take to remove asbestos?
The time taken to remove asbestos varies from project to project. Smaller domestic jobs can be done in a day, whereas bigger commercial jobs may take weeks. It is important to remember there is an abatement period to ensure the property is safe to enter again. If you allow 48 hours, this will ensure there are no harmful asbestos fibres in the air around the property.
Can't wait to put this review online for Adrian and the team. Adrian came to us on the day I called him to give us a quote on asbestos removal, and the work was done within a week! Very professional, nice and clean site, really recommend this business to anyone who need asbestos removal. Last but not least, the quote is really reasonable!
Extremely professional advice and service. Was able to collect and dispose of asbestos same day I called. I would highly recommend Adrian to any of my friends or family. Overall great customer experience – Thanks again, Jordan.!